I just got off the phone with Genevieve who again reminded me that I must remember to update my blog. I have been busy trying to plan Colby's birthday party, which we are having on the 6th of November. Adam and Genevieve may be in town for then which will be great!
I went to Cole's last night to find a book for Colby about being a big brother. I did find one, but I also found a book about a little boy getting his first Toronto Maple Leafs Jersey, which of course could not be passed up. And, who but Poppy to read it for the first time?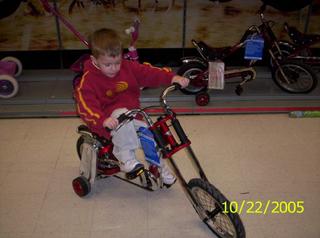 Dad took Colby to Zellers and showed him the West Coast Choppers kids bike. Take a wild guess what this kid is getting for his birthday!